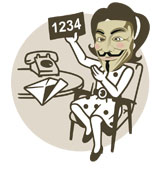 (1) create order + register
(2) get availability of numbers for you
(3) pay the order and notify operator
(4) get payment reception confirmation
(5) query the numbers you have ordered
(6) turn on your number(s), receive SMS
(*) contact operator in chat, messengers or tickets if any problems occured.

Signup / Profile - account creation, set localtime, language, additional information, Telegram bot access (under construction)
(!) account also will be created automatically along with your first order (Orders)
Orders: list, create, view, modify, control (cancel, payment link, phone numbers request).
Invoices: list, view payment credentials, payment confirmation, create invoice for balance refill.
My Phones: control panel for your phone numbers - numbers list, turning on/off, SMS list
Chatroom: chat with operator in worktime
Tickets: correspondence with operator, notifications from operator
Currency rates to U.S.Dollar for cryptocurrencies and RUR
Guestbook - guestbook for feedbacks

For automatic numbers with 24 hours a day access, please CONTACT OPERATOR.
Follow these instructions to order non-automatic numbers with web panel access.

First of all, go to ORDERS (link also available in top menu).
If you have no account yet, create login and password there.


You can choose Option #1 "COMBO" (all included for $50 per year) - if so, skip steps 2-4 and go to step 6.
Option #2 - specify the services you need.
Services are presented in two selection lists - ORDINAL and BUSINESS (see Ordinal or Business - what the difference?
Select the service in list, then click three green arrows below. Selected service will appear below, instead of "None selected" text. In this way you can add as much services as you need. To remove service, click the red cross on the left from its name.
If your service absent in list, you can type it below, separating each with comma. Order would be processed manually by operator. So, please ensure that manually entered services really not in list.
It is mandatory to set "Time to serve". Otherwise you'll have to return here to fix it.
For extra $10 (one-time payment) you can allocate all the number for your exclusive usage: check "USE DEDICATED NUMBER". (See What is "dedicated number"?)
Select amount of numbers you need.
If you need numbers of specific countries of that we offer, check it. If you need any country except some, check all except those you don't need.
To your attention, numbers of Latvia and Poland are much expensive when registering Telegram.
To pay the order, you can use CRYPTOCURRENCIES (we accept virtually any), Perfect Money, Qiwi or Webmoney. If you have no any of these, you wouldn't be able to pay the order. We DO NOT accept bank cards and Paypal. Again, bank cards and Paypal).
You can add NOTES to the order, if you need some specific type of service (choose cellular operator, have bulk order, need to get consulting before the purchase, need to receive/send voice calls for verification. Order with NOTES would not be processed automatically but reviewed by operator.
If you are new client, enter letters and digits from the picture to confirm you are not a bot.
To complete, press "QUERY AVAILABILITY AND PRICE". Numbers availability would be checked, price calculated, and order will get status "DRAFT". There you can select to pay it or leave as draft to return later (it will be available in your orders list.

To lease an automatic number, please, CONTACT OPERATOR.
If you've created login and password on previous page, you'll see it along with message of successful registration. Now you're already logged in with these credentials. You can change password and make some settings in your PROFILE
On error, you have to return and correct mistakes (wrong Captcha, login that already exists or contains inappropriate characters etc).

If no errors in order processing, you should see several tables:
"Price details" table shows you the price calculation for your order.
"Numbers availability" table displays operators that can satisfy your request.
"H:m" ago shows how long time ago they were noticed online (if online, it shows several minutes).
"Working now" shows how much time left to the end of workday for the operator, or if you see "Wait", how many hours:minutes left till their opening.
There is also official working time for "Today", "Tomorrow" and for the "Week" (put mouse over the picture)
"Your balance" table shows your balance information and amount to pay (or to add to balance) for making order fulfilled. If you have enough balance, you can "Pay from balance" and get your order immediately put to status "REQUEST NUMBERS". Otherwise, you will get the Invoice to pay ("Pay invoice" button). Don't forget to select currency to get credentials and re-calculation according to the rate.
You can also "RETURN AND CORRECT" anything you need to correct, "SAVE ORDER AS UNPAID" to pay it later, or delete it by pressing "CANCEL".

VPN and Proxy services, VPS based: shared (like popular VPN providers), dedicated channels, sTunnel connection, dedicated IP, bi-directional IP (you can make server on your computer with IP masked), other custom configuration on demand.
Web-services registration with SMS verifications on your behalf (for extra fee)
Proxy and escrow for the purchases on Russian language Internet marketplaces, non-criminal items, products and services from Russian language web services (domains, hostings etc). The fee is 15% ($10 minimum) of purchase cost, including escrow (scam safe for you).
Other services - specify what do you need and we shall tell you whether we can help.

No, every web-service registration is unique, even for one-time usage, and will never be re-used
We're also don't resell physical SIM cards after usage; they either no more prolongated and dies, or destroyed physically.

Hypothetically, it is possible your service to be overtaken if dead number would be re-issued by cellular operator and sold to someone as new. Several years may pass, but we didn't face such a situations yet.

Sure. If you left your contacts, we even remind you about this (this option is under construction). If no, number might not be destroyed after the leasing period, but not for sure. Please, ask for the prolongation before the time or not long time ago after
We are maintaining our numbers park periodically, checking for physical presence and prolongating or performing paid actions according to cellular operators' rules.
Some force majeure situation might occur, like third party remote SIM theft using cellular operator insider (for Russian and Ukrainian numbers), or number might be blocked by operator for reason other than non-prolongation. Physical SIM card loss is an exception for us.

Independent from the reason your card has been lost, we offer moneyback or substitution for the term you've ordered the number, counting from the moment of loss.
If you want your number not to be used for other clients to register their other web-services, you can secure all the number for you. Otherwise, number is shared (for example, if you have purchased number for Yahoo, you might get the number where other clients' Telegrams or Googles already present)
Our service working good, we've tested it, thanks.
Yes, it's possible but depends on circumstances. If we unsure about successful reception, we offer you to test it before ordering.
Contact operator, we will try to replace number, change cellular operator or country, to get the positive result. We are using real physical SIM cards, so there's should not any problems to occur.
If service which sends SMS is temporary not working, we can do it later.

Please note that SMS could be delayed or not delivered properly from small Web sites or and domain sellers or hosting providers because of their SMS delivery system.

If result still negative, it is assumed you will get money back, but then we shall refuse to retry because of time expenses.
Pricing plans are intended for irregular SMS reception. If you need it regular, more than once a week (2-3 times a week for Business plans), you can lease an automatic line or negotiate a surcharge with the operator (~$0.50 per SMS session). No surcharge taken in case of unintended event.
Business web-services are all related to finances. Others are considered as Ordnial
Operator is available for chat at worktime (daily, from 11am till 3pm GMT except Saturdays) in CHATROOM or via messengers (Telegram @virtualsim, Jabber vsim@xmpp.jp, ICQ 7386000).
You can also email us to support at virtualsim.net (checked once a day) or CREATE TICKET. Your feedbacks are welcome in GUESTBOOK.