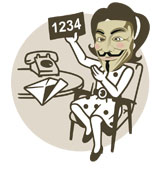 SMS verifications, SMS confirmations of money transfers, SMS when you entering Google and other attempts to gather your phone numbers - is one of the most annoying and privacy worrying new technology in the Internet.
If you can't buy SIM-card anonymously, like in Russia (it's possible, but not easy), you have to pass your realname and address along with location information to authorities, who might be interested in prosecuting you for your realization of right for freedom of speech and self-expression in the Net.
One person - one account - another problem, created by SMS verifications. People with active internet lifestyle and variety of activities can't put all their lives inside single account, can't put all the money into one wallet. Sometimes it is not wise and safe to unite all the activities under single name. And you have "your number is already registered". So you need to buy new phone numbers, keep it and top up the balance.
Using VPNs and other IP masking services causes Google, VK, Facebook and others to shit bricks and demand you to get SMS or state your phone number. Everytime you changing the country you're walking out from to the Internet, it happens again and again.
The idea of helping other with anonymous phone numbers appeared a year ago, in early 2014. That was very private service for my friends in Russia. They wanted to realize their freedom of speech without the consequences. Phone numbers in Russia are not anonymous (unless you can buy unofficial), and authorities of this authoritarian country can prosecute everybody who'd like to express free speech in the Internet.
In the fall of 2014, service was opened to the Internet for all. Since opening it got subscribers from around the world, thanks to Bitcoins which has no borders.
The future of service is in hiring operators for 24x7 service; it's not possible for now by financial reasons; automation is not a solution for large number of people who need to receive SMS once per month or even rarely. Besides, manual service allows to hide IP even from us.
Right now we are testing automatic service too; free SMS receiving feature will appear soon, for advertising purposes. Then we'll present a service for sending and receiving SMS for those who need to do it in bulk.
For now, it's a small Internet shop, working with dinner time breaks, sleep breaks and other breaks when operator needs to go afk. But it works properly and serves good, helping you to preserve your anonymity and not to loose your accounts registered on numbers you've bought from us.
Anonymous phone number for SMS verifications is not the only way to stay safe and anonymous online. To be completely hidden, you have to buy VPN (about $3-5 per month) to hide your IP (you can also use free ones or TOR), not to trust your dialogues to social networks, and to use encrypted chats like OTR for ICQ and Jabber, or Cryptocat.
Stay anonymous! Have success in your life and business! If you'll need an anonymous phone, just ask.
Sincerely yours, VirtualSIM!