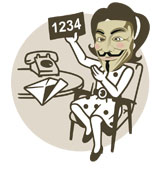 ■ Attention! If you want to use Jabber to communicate, please use vsim_vip2@exploit.im
Our old xmpp.jp account was abandoned due to constant connectivity problems.
■ Saturday is a vacant day. See you on Sunday at 11 am GMT! (See also the timetable of operator on duty, lx, if you need to make a new order or turn on numbers served by him).
■ On Sunday, July, 5th, we are online from 11 am till 3 pm (11:00 - 15:00) GMT. Welcome!
Invoices
ERROR: This page is for clients only