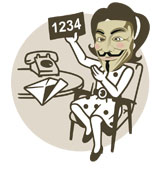 MAIN WORKTIME
11-15 GMT (ex.SA)
WAIT 17h10m
OPERATOR ON DUTY
17-21 GMT
ONLINE FOR 3h10m

New orders and numbers of operator lx only
No chat, no messengers. Tickets only
■ For BTC payments, we recommend to set commissions which are adequate to the transaction amount: transaction speed is not critical for us.
■ On Sunday, May, 31st, we are online from 11 am till 3 pm (11:00 - 15:00) GMT. Welcome!
Tickets
Please login first to use tickets