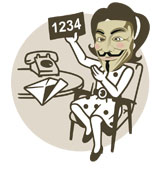 MAIN WORKTIME
11-15 GMT (ex.SA)
WAIT 17h54m
OPERATOR ON DUTY
17-21 GMT
ONLINE FOR 3h54m

Only new orders and SMS on it
Live support: tickets only (no chat and messengers)
Services offer may be limited (SEE LIST »)
■ Numbers of Latvia are temporary unavailable. Due to cellular operator failure, all existing numbers require re-activation, what we are doing right now. It may take several weeks to recover.
■ Automatic 24 hours/day lines are available: $20/month per number via site interface, $35/month per 2 numbers via Android remote access. Ask operator in chat or messengers
■ On Tuesday, March 26th, we are online from 11 am till 3 pm (11:00 - 15:00) GMT. Welcome!
Orders
See the working schedule at the page top