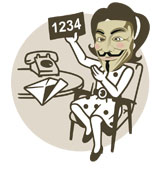 ■ THIS IS A WRONG COPY OF THE SITE!
OUR HOSTING HAS FUCKED UP. PLEASE FOLLOW THE INSTRUCTIONS BELOW TO CONNECT TO THE RIGHT COPY:

FIX IS ONLY AVAILABLE FOR WINDOWS!

Open this file with ADMINISTRATOR PRIVILEGES:

Ñ:\Windows\System32\drivers\etc\hosts

Then add a line to the bottom of it:

185.253.219.219 virtualsim.net

(Without # sign, unlike other lines)

This will make your connection resolve correct DNS for accessing our site and you should be able to login.

Sorry for the trouble!
■ Automatic 24 hours/day lines are available: $20/month per number via site interface, $35/month per 2 numbers via Android remote access. Ask operator in chat or messengers
Orders
See the working schedule at the page top