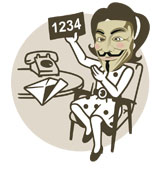 VirtualSIM Guestbook
2 January 2019, 15:15
VirtualSIM has great support service. Will use again. LINE will likely block a lot of numbers outside their major list but support stuck around to find a number that worked. Crypto payment easy as well.
2 August 2018, 11:55
Cool service with fast and chill support. Keep up the good work!
20 July 2018, 03:20
Hello!
Please come to chat between 11 am and 3 pm GMT, we're available for chat (except Saturdays).
19 July 2018, 22:10
Hello i want to chat with agent help line
29 April 2018, 11:15
Если ваш номер арендован на более длительное время, мы пополняем его или делаем платное действие, поэтому номер отключаться не будет.