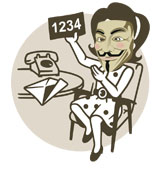 ■ On Wednesday, November, 22nd, we are online from 11 am to 5 pm GMT. Welcome!
Receive free SMS on Ukrainian number: OFFLINE
To get SMS, refresh this page manually. SMS updates every 1.5 minutes.
Refresh page once a 1.5 minutes to get new SMS
SMS hub said delay is too big (>10 min), may not work; DO NOT SEND SMS, contact operator ago (sends status every 5-7 min, refresh page)
Phone recent status ago (sends status every 5-7 min, refresh page)
Timezone in SMS is GMT
This
free
SMS service is intended for adveretising and
testing
purposes.
With our new script, you can
reserve number
for specific services sms verifications
for free
.
Select service you need to verify, make
password
to make it
private
. Use your password to access your sms.
If you will not use your password to get sms, it will be deactivated manually or automatically.
Approximate lifetime of this number is 1 month. But we can remove it if needed, earlier or later. Don't rely on this free number if you need safe personal number for sms verifications or re-verifications. It's just an ad and test.
If you need personal one-time SMS to another number, or personal dedicated number from $1 to $5 per year, or $15/month dedicated online 24h/day number with web access, please
contact us for paid personal services
You can also purchase access to this number when it will be put offline.
99Taxis.com
Adedge
AdvCash.com
Airbnb
Akkord-Tur
Alfahosting.de
Alibaba.com
Aliexpress
ALIPAY
Alldebrid
Audience Awards
aukro.ua
AUTO.RIA
Azino-777.com
Badoo
BeeTalk
BeGet.ru
Binomo
BIT-X.com
BitGold
BitQuick
BlaBlaCar
BulkSMS.com
Careem
Cash.me
CasinoRoom.com
Chatroulette
CheckTrust.ru
Citrus.ua
CityHost
Clockwork
CloudSigma
CoinsUp.com
ComeOn
CreditUp.com.ua
Dealmedan
DengiOnline.com
Didlogic
Dingtone
Dogry.pl
Drugvokrug.ru
E-NUM
EA.com
Easyname
EasyPay
ElasticHosts
Elcats.ru
Emozzi.ua
Exchangex.ru
Facebook
FastMail
Fidobank
FirstVDS.ru
Fiverr
Forumodua.com
Fotostrana.ru
FR.im
FreeBitco.in
FreeDoge.co.in
FreeJe
Freelance.Ru
freelancehunt.com
Freelancer.com
freenom.com
Fregat TV
FunCaptcha
Futuriticasino.cc
FxCommunity.com
Gameflip.com
Gamekit.com
GameNet
GlobalMoney
Globfone.com
GMhost
Google
Grab
Guodu
Hike
Hoobly.com
HOSTiQ
Hostkey
Hushmail
ICQ
IHC.ru
Ihor
Ikvulkan.com
Instagram
ipserver.su
JD.ru
KakaoTalk
KidStaff
km.ua
KOnline
Letsads.com
LINE
LinkedIn
LiqPay
Localbitcoins.com
Loveplanet
Mail.ex.ua
Mail.Ru
Mailgun.com
MeetMe
Microsoft
mnogofilesua.com
Mobilbet
Mobilluck.net
MoneXy
MTS.ua
Multilotto
MyArena.ru
NAVER
Netgame.com
NEXMO
Nic.ru
Nic.ua
Nogame.win
Odnoklassniki
OffGamers.com
OKPAY
Olimp
OLL.TV
OlympSlots.com
OneCard
Onliner.by
PCGameSupply.com
Pivotal.io
PrivateFX.com
prom.ua
prostor.ua
Protonmail
QIP
Qiwi
QQ
RealStatus
RediffMail
RedPhone
Revolut
RIA.com
Rivo Casino
Roboforex
RunAbove
RuVDS
Seagm.com
SEOSprint
SIPNET
Skrill
Slotoking.com
SMS-Fly
SMSC.UA
Snapchat
Sonetel
Spaces.Ru
Spooftel.com
Star24
Steam
Switchpoker.com
TALK2
Tango
Tantan
Taobao
Telegram
Tinder
Topface
ToText.net
TradingView.com
Truecaller
TurboChat
Tweaknews
Twilio
TWINT
Twitter
UBER
UCoz
UFX.com
Ukr.net
UltraVDS
UNISTREAM
Vaster
Viber
Violity
Vipnetgame.com
VirtualSIM
Vk.com
vkserfing
Voxox
Vps.me
Vulkanoriginal.com
Wargaming
Weblancer.net
Webmoney
WeChat
WhatsApp
Wideup.net
WiFiNow.ru
Wildberries
Winetime.ua
Winlinebet.com
WMRFast.com
Xapo
Yahoo
Yandex
Yaplakal
Zalo
Enter YOUR password if you have already took this service
Enter NEW password to take this service for only your usage
You didn't enter password or password was incorrect.
You have access to incoming SMS from unlisted services.
If previously unlisted service was listed and disappear, that means we have listed it and set password. Use password '123' for access.
16-06-03 07:33
PUMB
*3133 2016-06-03 10:33 SPYSANNIA 52.50UAH BALANCE 150.21UAH VLASNI KOSHTY 150.21UAH Detali pumb.ua/ib*3133 2016-06-03 10:33 SPYSANNIA 10500.00UAH BALANCE 202.71UAH VLASNI KOSHTY 202.71UAH Detali pumb.ua/ib
+380999197562
16-05-31 07:28
InfoCom
Fullcontact PIN: 9239.
+380999197562
16-05-31 06:31
PUMB
*3133 2016-05-31 09:31 NADHODZHENNIA 10500.00UAH BALANCE 10807.71UAH VLASNI KOSHTY 10807.71UAH Detali pumb.ua/ib*3133 2016-05-31 09:31 SPYSANNIA 105.00UAH BALANCE 10702.71UAH VLASNI KOSHTY 10702.71UAH Detali pumb.ua/ib
+380999197562
16-05-31 06:03
PUMB
*3133 2016-05-31 09:03 SPYSANNIA 10500.00UAH BALANCE 360.21UAH VLASNI KOSHTY 360.21UAH Detali pumb.ua/ib*3133 2016-05-31 09:03 SPYSANNIA 52.50UAH BALANCE 307.71UAH VLASNI KOSHTY 307.71UAH Detali pumb.ua/ib
+380999197562
16-05-30 19:25 2262
Ответьте 52 на это SMS для активации. Инфо: +380487377366 help@mob-
+380999197562
16-05-30 19:25
ACTION
Your CPAlead verification code is 66104.
+380999197562
16-05-30 14:51
QGUYS
Code: 8869235
+380999197562