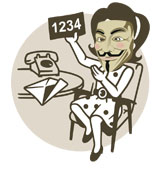 ■ Friday is vacant day. See you on Saturday at 10 am GMT
■ Telegram - Iran - numbers of Russia and Ukraine are no more suitable. Use Latvia, from $3 for one time to $7 for year
■ Free phone number temporary inoperable
VIRTUALSIM.net can help you!
Personal dedicated anonymous phone numbers
of Ukraine (+380), Russia (+7), Latvia (+371), Estonia (+372) to register and keep any web service with SMS verification: social networks (Facebook, Vk, Telegram, Instagram), Google, Skype, Viber, Whatsup, Avito.ru, money transfer services, exchanges, betting sites etc (
see extended list at the page end
)
Totally anonymous - no registration, no personal data, offline data storage, encrypted chat available (OTR for ICQ and Jabber), cryptocurrencies payment option
Reliable - you will not lose your number; your number will never be re-sold or re-used
Personally yours - we do not re-sell and re-use numbers even if you ordered one-time activation
Accessible every day from 10am till 10pm GMT (except Friday, we have vacant day), various contacts options
Inexpensive subscription from $5 per year, SMS are free
Trusted - working since autumn of 2014, no complaints and moneyback queries; solid customers base; pre-payment is not neccessary
Simple and fast - live operator dialogue mode
We offer phone numbers for personal, marketing and business purposes:
Pricing plans are actual since July, 1st, 2016. Attention! For all existing customers, old pricing applies forever if lower for service/prolongation of already purchased items. Old pricing for new purchases ($1/year one service, $5/year dedicated) are active till October, 1st only.
SPECIAL LIMITED OFFER: Automatic Unlimited Month - $15

If you need 24 hours a day access to your phone number during one month
Unlimited usage
Personal web panel, https supported (see example)
You get unused yet unpacked number, dedicated exclusively for you
You can use numbers of Russia (+7), Ukraine (+380)
You get "Dedicated Multiservice One Year" since time of purchase or prolongation (and/or "Business" one year reservation)
Very special offer: 2 Ukrainian numbers for price of 1.5 - $22.50 (second number is virtual, one year storage is $6)

Dedicated Multiservice One Year - $10

If you need to register multiple web-services on single number and keep it for year for re-verification
Human operated, from 10 am till 10 pm GMT (except Friday, we have vacant day) - ask to turn on your number and get sms in messenger or chat
You get unused yet unpacked number, dedicated exclusively for you
You can use numbers of Russia (+7), Ukraine (+380), also we have Latvian or Estonian for extra fee
"Business" pricing plan is included for free for two months
Getting verification codes from voice calls (free, except from Russian numbers - $1.60 per number per day)
Specific options:


Numbers of Latvia and Estonia: $12 and $15, respectively (+371 and +372 country code)

One Service One Year - $5

If you need to register one web-service and keep it for year for possible re-verifications
Human operated, 10 am till 10 pm GMT (except Friday, we have vacant day) - ask to turn on your number and get sms in messenger or chat
You get one slot on shared number, used by other people for OTHER services
If no prolongated after year, number will never be re-used/overtaken for same service
You can use numbers of Russia (+7) or Ukraine (+380), also we have Latvia and Estonia numbers
Getting verification codes from voice calls (free, except from Russian numbers - $1.60 per number per day)
Specific options:


For finances related services, see "Business" plan

Numbers of Latvia and Estonia: $7 and $8, respectively (+371 and +372 country code)

Onetime - $1

If you need register one web-service and will never re-verify it using same phone number
Human operated, 10 am till 10 pm GMT (except Friday, we have vacant day) - ask to turn on your number and get sms in messenger or chat
You can get several sms sequentially for this price during one session
You can use numbers of Russia (+7) or Ukraine (+380), also we have Latvian and Estonian for extra fee
Unless you buy it for one-time, number will never be re-used/overtaken for same service again
Getting verification codes from voice calls (free, except from Russian numbers - $1.60 per number per day)
Specific options:


For finances related services, see "Business" plan

Numbers of Latvia for Telegram: $3 (+371 country code)

Numbers of Latvia, other services: $2

Numbers of Estonia for Telegram: $5 (+372 country code)

Numbers of Estonia, other services: $4

For bulk purchases, see "Bulk" plan

Bulk - $0.50

Minimal order is 20 numbers ($10). Numbers should be used during the day of purchase
Human operated, 10 am till 10 pm GMT (except Friday, we have vacant day) - ask to turn on your number and get sms in messenger or chat
Getting verification codes from voice calls (free, except from Russian numbers - $1.60 per number per day)
For bulk orders, operator\s working speed is 30-50 numbers per hour
We recommend to split big orders by 50-100 per day
You can get several sms sequentially for same service for this price (i.e.,2 Googles, 3 Instagrams, 3 Hotmails etc)
You can use numbers of Russia (+7) or Ukraine (+380), also we have Latvian and Estonian for extra fee
Numbers will never be re-used/overtaken for same service again
You can ask us to store number for ONE month for free, then for $0.50 each next month
Getting sms again for re-verification is not free for this pricing plan, it's $0.15 for each sms

Business - $2..$5

If you need to use financial related services
Keeping your web wallet and performing SMS confirmations for your operations
You can register several financial services on one number, for 50% price for second and following
Human operated, from 10 am till 10 pm GMT (except Friday, we have vacant day) - ask to turn on your number and get sms in messenger or chat
On your demand, you get unused yet unpacked number, dedicated exclusively for you
You can use numbers of Russia (+7), Ukraine (+380), also we have Latvian and Estonian for extra fee
Getting verification codes from voice calls by operator (free, except from Russian numbers - $1.60 per number per day)
We DO NOT accept sms from Ukrainian banking, e-payments and delivery services
Plan options:


One week support (number will be disposed if no prolongated) - $2.50

One week support, regular customers ($20+ orders) - $2

One month support - $5

One month support, regular customers ($20+ orders) - $3

One year reservation when paid for 2 months (after 2nd month, you pay for months when you use it)

Half-year - $20, year - $36

Numbers of Latvia and Estonia: x2 and x2.5, respectively (+371 and +372 country code)

Other services

Purchasing (non-criminal) goods on Russian language sites - 15% (min.$10)
English-Russian translations - from $1 per short piece of text
Contact us
On-site chat (right bottom corner of this page)

| | |
| --- | --- |
| ICQ 738 6000 (OTR supported) | |

Skype virtualsim.net (unstable, please use other messengers)
Jabber vsim@xmpp.jp (OTR supported)
Telegram @virtualsim
Yahoo virtualsim (very unstable, not recommended)
EMail virtualsim at inbox.com support at virtualsim.net
Social
We accept ONLY
Cryptocurrencies BITCOIN, LITECOIN, NXT, PEERCOIN, NEM
Codes of BTC-E.COM exchange
Skrill as an exception, small amounts up to $10 (+15% commission)
Our customers has already registered in
AdvCash.com, Airbnb, Alldebrid, Avito.ru, Badoo, BeeTalk, BeGet.ru, BIT-X.com, BitGold, BulkSMS.com, Careem, Cash.me, CloudSigma, Didlogic, Dingtone, Drugvokrug.ru, E-NUM, ElasticHosts, Elcats.ru, Facebook, FastMail, Fidobank, Forumodua.com, Fotostrana.ru, FreeBitco.in, FreeJe, FunCaptcha, GlobalMoney, Globfone.com, Google, Hike, HOSTiQ, Hushmail, ICQ, IHC.ru, Ikvulkan.com, Instagram, KakaoTalk, LINE, LinkedIn, LiqPay, Localbitcoins.com, Mail.Ru, MeetMe, Microsoft, Mobilbet, MoneXy, Multilotto, NAVER, NEXMO, Odnoklassniki, OKPAY, Onliner.by, QIP, Qiwi, QQ, RealStatus, RediffMail, RedPhone, Roboforex, RunAbove, SEOSprint, SIPNET, Slotoking.com, SMSC.UA, Sonetel, Spooftel.com, Switchpoker.com, TALK2, Telegram, Tinder, Topface, Truecaller, Twilio, Twitter, UBER, UFX.com, Ukr.net, UNISTREAM, Viber, Violity, Vipnetgame.com, Vk.com, Voxox, Vps.me, Vulkanoriginal.com, Webmoney, WeChat, WhatsApp, Wideup.net, Winlinebet.com, Xapo, Yahoo, Yandex, Yaplakal, Zalo and other web services